The ever-elegant, pretty pink strawberry frosé is a perfect summer drink. Think of it as a slushy for adults. If you have plans to host guests this summer or you want to spend a quiet summer afternoon alone, you should try this frosé recipe.
Strawberry Frosé Recipe
Before we dive into the proper recipe, let's have a glance at what type of drink strawberry frosé is.
Frosé is simply a frozen rosé drink. It is a basic frozen cocktail jazzed up with the quintessential summer wine and garnished with strawberries.
This slushy drink has a pretty, tropical pink color and is typically not sweet. It tastes just like rose wine and is a happy hour favorite. If you have a sweet tooth, you can try sweetening this cocktail with some more honey.
You can also jazz up this fruity frozen wine cocktail with vodka to give it that extra kick.
When to Serve This Frosé Drink
This fresh and fruity frozen rose cocktail can be taken anytime in the summer.
This sophisticated yet straightforward frozen wine cocktail is always a hit, from midday meals to cozy backyard hangouts with friends.
A frosé strawberry cocktail can also be taken with appetizers, and it pairs very well with any grilled meal. Try combining it with a grilled veggie burger; you will never want to drink any other cocktail again.
Frosé ingredients and tools
You can pick this stuff up at almost any grocery/liquor store.
Tips For Making A Delicious Frosé Drink
One major thing to note when making a frosé is that it requires proper planning and preparation. This is because the rose wine needs to be kept in the freezer for at least six hours to freeze.
So if you need to shake up a quick, impromptu cocktail to serve your guests, skip this recipe.
Another essential tip for making a delicious frosé drink is to pick the right fruits. Although using frozen strawberries will give you a nice frosé cocktail, it is best to use fresh strawberries.
This is because the process of freezing the rose to make it slushy tends to reduce the taste and flavor of the drink, so using fresh fruits in your recipe helps to enhance its flavor and give it a brighter, prettier color.
Finally, this frosé recipe can be tweaked to suit your personal preference. Some variations can include watermelon, raspberries, pineapple, mango, and peach.
If you would love your cocktail to have an extra zing, add some lemon juice to the recipe.
If you prefer a lighter cocktail, skip the lemon juice and add extra sugar or honey to sweeten it. There is no hard and fast rule to it, so feel free to add and remove as many ingredients as you please.
How To Make The Best Frosé Ever
First things first, choose your wine. Make sure you select a full-flavored, full-bodied, dark-colored, fruity rosé for freezing.
After freezing and blending, the wine will lose a little of its color and be a bit diluted, so you should go for something that will hold its own. The recipe below yields 4 to 6 glasses.
Pin me!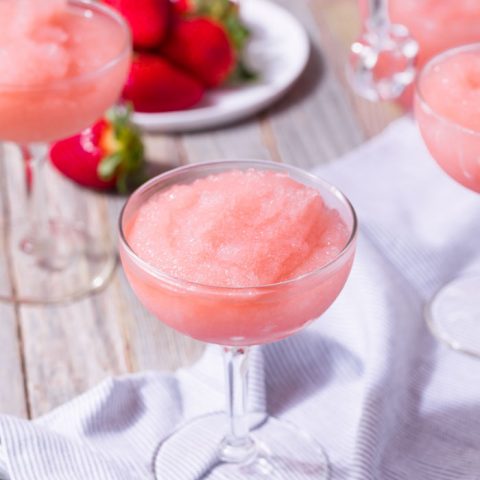 Strawberry Frosé Recipe
Total Time:
6 hours
5 minutes
The ever-elegant, pretty pink strawberry frosé is a perfect summer drink. Think of it as slushy for adults.
Ingredients
2 cups (300 grams) fresh strawberries, hulled and halved
1 (750-milliliter) bottle rosé wine, like Pinot Noir or Merlot rosé
4 tablespoons honey
2 fluid ounces (60 milliliters) lemon juice
Fresh strawberries for garnish, optional
Instructions
In a blender, blend the strawberries, rosé, honey, and lemon juice on high speed until smooth and thoroughly combined. Then pour the drink through a strainer and into a large, shallow pot.
Freeze the mixture for at least 6 hours, but you can also leave it overnight if easier. Don't worry, the alcohol will prevent it from freezing solid.
Once the time has passed, blend the mixture again until slushy and divide among coupe glasses.
Garnish with fresh strawberries if you want. Cheers!
Recommended Products
Nutrition Information:
Yield:

5
Serving Size:

1
Amount Per Serving:
Calories:

283
Total Fat:

0g
Saturated Fat:

0g
Trans Fat:

0g
Unsaturated Fat:

0g
Cholesterol:

0mg
Sodium:

15mg
Carbohydrates:

30g
Fiber:

2g
Sugar:

25g
Protein:

1g