This white wine spritzer is an ideal thirst-quencher on a warm day, and it's one of the easiest drinks to make! 
White Wine Spritzer Recipe 
If you're a fan of refreshing mixed drinks but don't feel like spending too much time making them, you've come to the right page. This white wine spritzer recipe is tasty and done in a matter of minutes. 
What Is a Spritzer?
Spritzer is the German word for a chilled drink, usually made with white wine and sparkling water. It's as simple as that. 
Its relatively low alcohol content makes it a popular summer drink in European countries such as Austria and Hungary. In the latter country, a Spritzer is called "fröccs" and is sold premixed in a can. 
In some German regions, such as Hessen, this drink is called "Süssgespritzter", which basically means "sweet spritzer". This sweet spritzer is usually made with carbonated lemonade instead of sparkling water. Does that sound interesting? Check out our Lemonade Spritzer Recipe!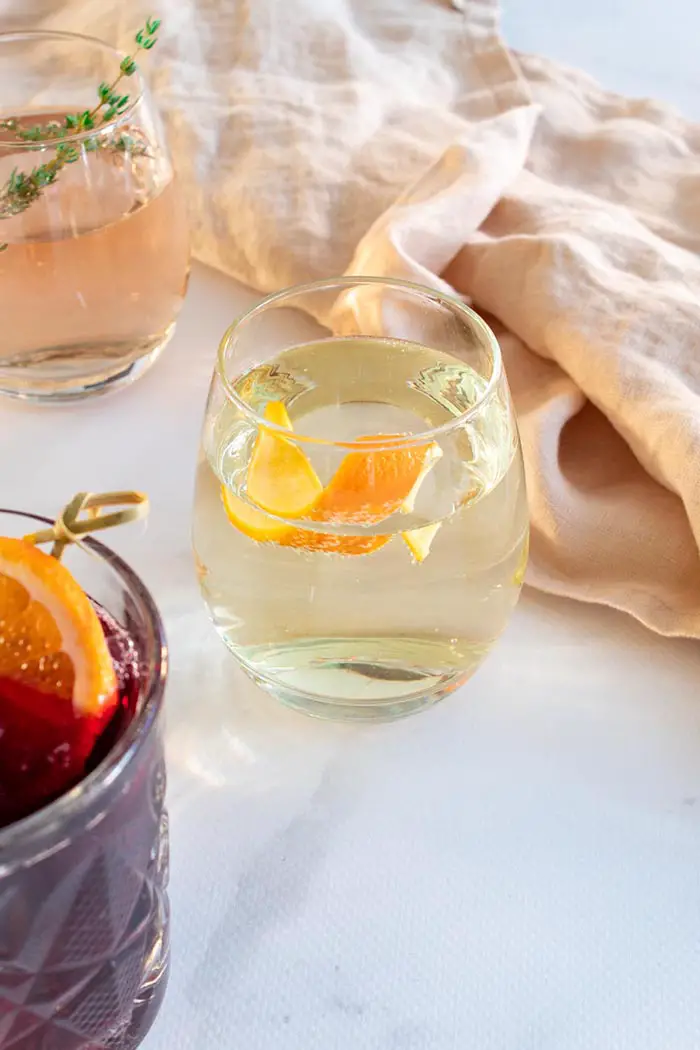 When to Serve a White Wine Spritzer
The answer to this question is simple: Summer! This drink is best-served ice cold, which makes it your best companion on a hot day. 
You can vary the wine-soda ratio, so you can spike the drink to your taste. This allows you to lower the alcohol contents if you'd like to have one of these white wine spritzers for lunch.
Other Spritz and Spritzer Recipes You Might Like
Since the average Spritzer recipe is pretty straightforward, there's a wide variety of Spritzer recipes. Take a look at some of our favorites.
Rosé spritzer
Vodka spritzer
Tips for a Delicious White Wine Spritzer
Even though making this drink is super simple, there are still some things to keep in mind and make your spritzer even better.
White wine may become flat and flabby if served too warm, so to acquire the optimal taste, make sure all ingredients are chilled before making your drink. You could even chill the glass too!
In case you're using an orange peel to decorate your glass, make sure there's not too much pith on the inside, as this could make your drink taste bitter. 
You could squeeze the orange peel slightly to release its oils before adding it to your glass. This will add a fruity touch to your white wine spritzer.
How to Make a White Wine Spritzer
Some recipes require an extensive explanation, but this is definitely not one of them. Making this white wine spritzer couldn't be any easier, but I'll tell you anyway. 
In a glass of your choice, add the white wine and top it off with the soda water. Feel free to play around with the wine-soda water ratio to see how you like it best. 
Take a rectangular piece of orange peel and make sure you've removed most of the pith. Be sure not to remove too much because the pith also gives a bit of sturdiness to the peel. Slightly twist it to release some of the oils before adding it to your glass.
Cheers!
White Wine Spritzer (Easy & Refreshing!)
This white wine spritzer is an ideal thirst-quencher on a warm day, and it's one of the easiest drinks to make!
Ingredients
3 ounces (90 milliliters) white wine
1 ounce (30 milliliters) soda water
Orange peel to garnish
Instructions
Add the ice to a glass of your choice
Pour over the white wine and top off with soda water
(Optional) Garnish your drink or glass with a slice of orange or orange peel
Cheers!
Nutrition Information:
Yield:

1
Serving Size:

1
Amount Per Serving:
Calories:

78
Total Fat:

0g
Saturated Fat:

0g
Trans Fat:

0g
Unsaturated Fat:

0g
Cholesterol:

0mg
Sodium:

8mg
Carbohydrates:

4g
Fiber:

1g
Sugar:

1g
Protein:

0g
Disclaimer: Nutrition information is automatically generated by Nutritionix. Actual nutrition values may differ.